Infrastructure
Internal network with WiFI modem connected to the internet
At least one DLNA/UPnP device or software with Digital Media Renderer service
Mobile phone with HQradio installed application (Trial/PRO)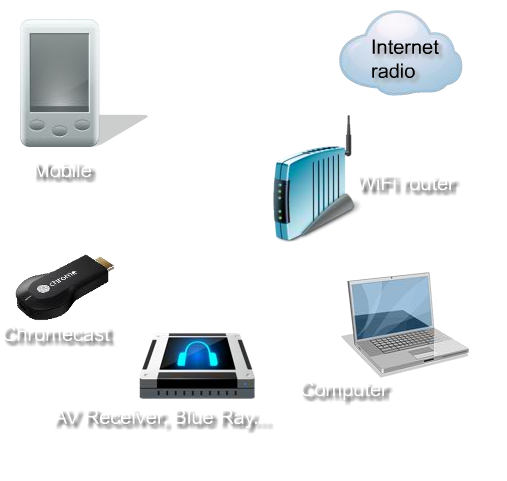 Mobile
Android OS version: 2.2 [Froyo] and above
Tested with:
2.3.5 [Gingerbread] - HTC DESIRE HD
4.2 [Jelly Bean] - SAMSUNG Galaxy S III
DLNA/UPnP software
Required is software with Digital Media Renderer Service which has permission for remote control from internal network. See
Setup
where are 2 examples described (Windows Media Player 12 and XBMC).
DLNA/UPnP devices
There is a lot of devices in the market but some of them has different behaviors with playing radio streams. Some of them work some not. Please help us to get your playing experience with HQradio sending mail to jiri.snizek@HQradio.net.
What we tested
Blue Ray player Pioneer BDP-150, DLNA 1.5 certified
* sometimes is playing interrupted after half secound of play. Seems to be some problem with internal buffer. Workaround is to force HQradio play again until device will not start playing without interruption.
TV LG 47LW5500-ZE, DLNA 1.5 certified
Important note: Any SAMSUNG device with AllShare is not supported because there is not pure DLNA implementation.